Eden Hill Medical Center Uses Digital Signage to Ease the Patient Experience
Medical center shapes patient experience with digital directory and animated 3D mobile wayfinding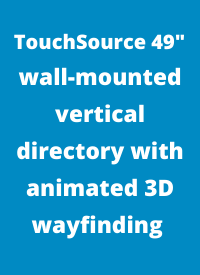 Eden Hill Medical Center is a premier medical destination in Dover, Delaware. The single building hosts 2,500 people daily who come to visit its 17 physician offices, ambulatory surgery center, urgent care, lab and on-site pharmacy.
Although offices and departments rarely turn over, new physicians are joining those practices all of the time. With thousands of patients and visitors moving throughout the 140,000 square foot building on any given day, it's crucial for Eden Hill to have an efficient system to communicate current directory listing information.
The campus had an aging, hard-to-manage slat directory that was hard to read, and resulted in the need to hire a part-time patient greeter. So when Eden Hill was purchased by MedProperties Realty Advisors in 2020, the new owners made property upgrades to deliver an improved, best-in-class visitor experience.
That included installing a TouchSource wall-mounted digital directory with 3D wayfinding that made it easy for visitors to self-navigate to their appointments. The solution lessened patient anxiety and helped on-time arrivals to appointments, but also eliminated the need for added staff to provide directions to those with problems navigating the facility.
TouchSource recently spoke with Trish Johnson, Executive Administrative Assistant for Eden Hill Medical Center, to learn how the digital directory has helped direct patients.
How has switching to a digital directory been most helpful for Eden Hill? What were pain points that have been resolved?
Moving to a digital directory has been helpful in many ways. Before, updating listings on the old slat directory took so much time and it was brutal. I had to unscrew the old slat and then shift other slats around to finish a replacement. Then, there was the lack of adequate wayfinding. People didn't necessarily get "lost" but it was generally hard to read the sign.
It could get frustrating trying to figure out how to get somewhere, and we have 3 floors. We had even hired a salaried part-time staff greeter in the lobby who directed people to where they needed to go. When the directory was installed, we no longer needed that role and were able to direct those funds elsewhere.
What features of your directory are most useful for visitors?
Eden Hill is a huge facility, so having a simple directory of medical offices and doctor listings paired with mobile wayfinding has become essential. Patients can simply touch the name of any practice or physician on the screen, and the wayfinding map shows them clearly where to go — it's a red dotted line, like a pirate treasure map. They can scan a QR code on their smartphones and follow those directions on the way to their destination. Our directory also includes building information, on-site and local amenities, current news headlines, the weather forecast, and local traffic.
How does the addition of wayfinding help promote a positive patient experience?
Healthcare is all about prioritizing the patient experience. We have a chance to shape that experience from the moment people enter our doors. Sometimes patients can be nervous arriving for appointments, so it's helpful that they are easily guided where they need to go. By providing mobile wayfinding, we're also helping to eliminate a stressful situation for them.
What feedback have you received about the directory since the installation?
People think the directory is high-tech and aesthetically nice. It looks great on the wall. But above all, the number one thing we're always told is that it's easy to use. I've only heard positive feedback. Personally, it's really nice having more time back. I used to have to schedule at least an hour away from my desk to update the old directory. Now, when I have to make a change, I click a few buttons on my computer and I'm done.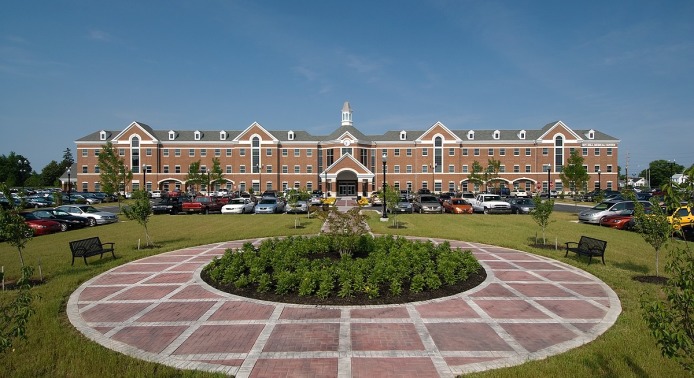 Share Story