Dynamic Background Videos
Beautiful Visuals, Practical Content
Bring dramatic, slow motion scenery to your digital signage experience. Choose from an array of mesmerizing slow-motion visuals that engage, relax and entertain visitors. You won't be able to take your eyes off of it. Better yet, your visitors will be drawn to use your directory or enjoy a few minutes waiting in your lobby. Call us to see the full range of beautiful views that you can bring to life on your TouchSource digital directory, messaging board or video wall.
Live motion scenery that activates your space
From scenic landscapes to breathtaking city views
Shape the mood of your lobby
Iconic views of inspiring places
Works on digital displays of all sizes
Supports HD, 4K, and up to 8K displays
Turn Your Directory into a Window to the World
Seeing is believing. Here's a quick video tour of what this modern post-pandemic amenity looks like. Add it to your building directory to draw visitors to the screen.
Customer Stories
How Oakland City Center Invigorated Its Lobby with a Video Wall and Motion Scenery
In 2019, the property installed a video wall system featuring 12 motion graphics videos that rotate regularly and feature beautiful outdoor scenery. Content including the local weather, transit schedules, headline news, and a community calendar of events are artfully overlaid on top of the mesmerizing imagery. Together, the video wall and motion scenery add a compelling amenity. Read the entire customer case study.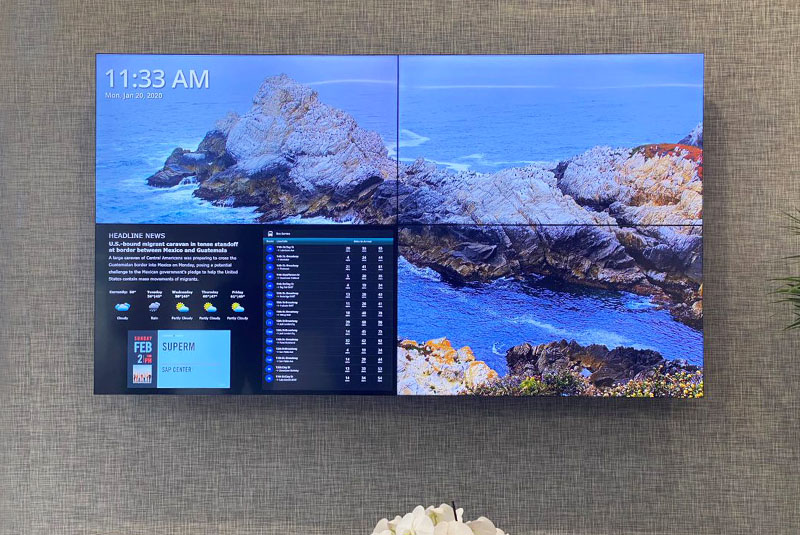 Premier Denver Tech Center Office Building Adds Cool Focal Point to Enhance Visitor Experience
Properties such this Denver Tech Center location, managed by Jones Lang LaSalle (JLL), are catering to an innovative tech sector. This six-story Class A office building recently underwent a "refresh" that included a lobby renovation. To create an eye-catching lobby, the modern design includes a new 2×3 foot TouchSource Video Wall with TouchSource DynamicSpaces™. Read the entire customer case study.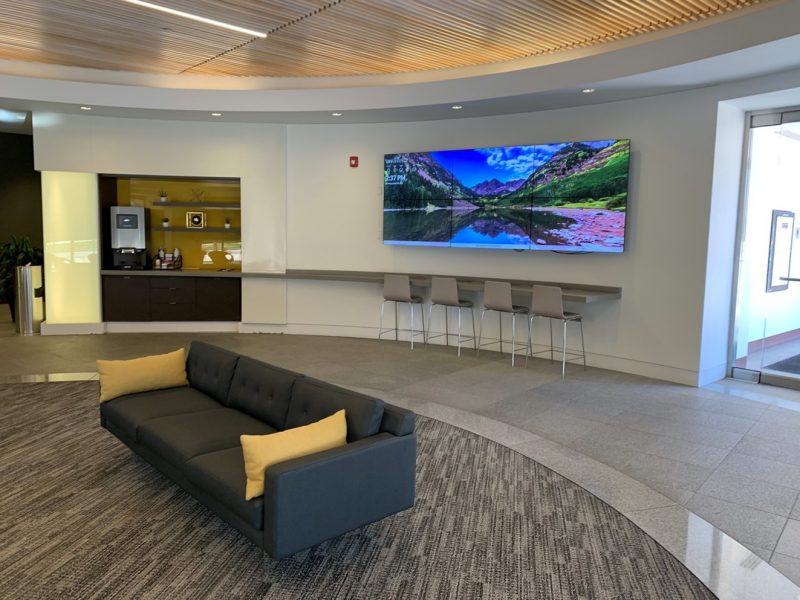 Landmark Square Inspires Visitors with Motion Scenery on Their Directory
Customers love these motion visuals because they turn a time-saving directory into a communication channel with aesthetic impact. It's an example of how many property managers have recognized that digital displays are today's modern marketing channel. They're able to serve as multimedia communication boards. In addition, they turn your directory into a lobby amenity that attracts choosy tenants who want premium experiences.
Connecticut Financial Center Adds a Window to the Outdoors
Not only do motion visual of dramatic landscapes or cityscapes add visual interest to your display, they also create a new perspective. Today's workers want greener workspaces. They want the feeling being outdoors even when they're at work, school and civic environments. Here's a way to both add bit of premium prop tech to your visitor experience and elevate to the aesthetics of your space. With constantly changing post-pandemic building policies and messaging, digital displays are a better way to get information across without adding to landfill.
A High Performance Building Rises Above the Rest
A premier office and lifestyle brand, reserved solely for top talent, chose to add the TouchSource digital directory with DynamicSpaces™ this compelling motion scenery for a premium experience. The first building in the market to introduce smart glass technology, 1K1 Conshohocken also wanted to feature tenant listings on best in class digital signage with turnkey software solutions that delivered an exceptional visual experience. It's just one more post-pandemic property amenity designed to put employers at the site in the best light, and engage visitors with a mesmerizing visual display to draws users to the display.