3 Steps to Plan Building Digital Signage Content
Are you thinking about switching to building digital signage?
Digital directories are must-have amenities for buildings looking to modernize their spaces. Digging deeper, they can have many other uses that go beyond simply sharing tenant listings.
Could your digital directory be your receptionist or information hub? How about alerting people about timely announcements or even holding surveys?
You might be wondering what specific information to include on your directory besides tenant listings. But don't worry, we've got you covered.
How to Plan Content for Building Digital Signage in 3 Steps
First things first, the type of information you should include on your static or touch screen building digital signage will depend on the nature of your business and the location of the display.
Before you dive into the specifics of your digital building signage project, answer the following questions: Who will benefit from your digital directory? What resources do they often look for? Where will your directory be located? How will the space be used?
1. Who will use it?

Who will visit and interact with your digital building signage day to day? You should know your audience and target your building digital signage content specifically to them.
For example: If your audience includes hospital visitors, you may use your directory to easily guide them to patient rooms and offer a clear map to the cafeteria or coffee shop.
If your building is a commercial property and your visitors are building tenants, occupiers, job candidates and prospective tenants, you'll want your content to show off your property's best assets. That could include sharing info about sustainability initiatives, popular on-site amenities, or something unique about your building.
Or, maybe your goal is to foster a sense of community. In this case, you can fill up your digital directory slideshow with engaging content about events and programs, ask questions, or spotlight employees.
In the example below, Granite Properties uses a digital poster stand to introduce its Property Experience Team:
Consider your property goals and your audience to select the right type of content to display.
2. Where will your directory be located?
The position of your digital building signage will help inform what content goes on it.
For example, you might decide to mount your screen display right inside the entrance to your building. Will you want to switch to custom messaging on certain days to welcome conferences or special guests?
Or, maybe your property is near a public transit hub. You can use your digital building signage to list transit schedules for trains, buses, or shared ride services.
3. How will your space be used?
The remote work effects of the COVID-19 pandemic shed light on how we use our spaces, but also how we underutilize them. When businesses saw how much of their office locations were left vacant from 2020 onward, many downsized and others chose to get creative by making the most of their spaces.
To add value and get the most out of your spaces, consider the ways in which your can use larger rooms and gathering spaces.
Could your main area be a lobby by day and a reception area by night? If the answer is "yes!", then you can tailor your directory content to feature a different design and message during a certain time of day.
So, let's take a closer look at the different types of information that work well for digital directories in healthcare, commercial, and educational settings.
Building Digital Signage for Healthcare
If you work in a hospital or healthcare setting, your building digital signage should easily direct people to doctor's appointments or patient rooms.
This will make it easier for patients to find healthcare providers and other amenities like the chapel, gift shop, and cafeteria.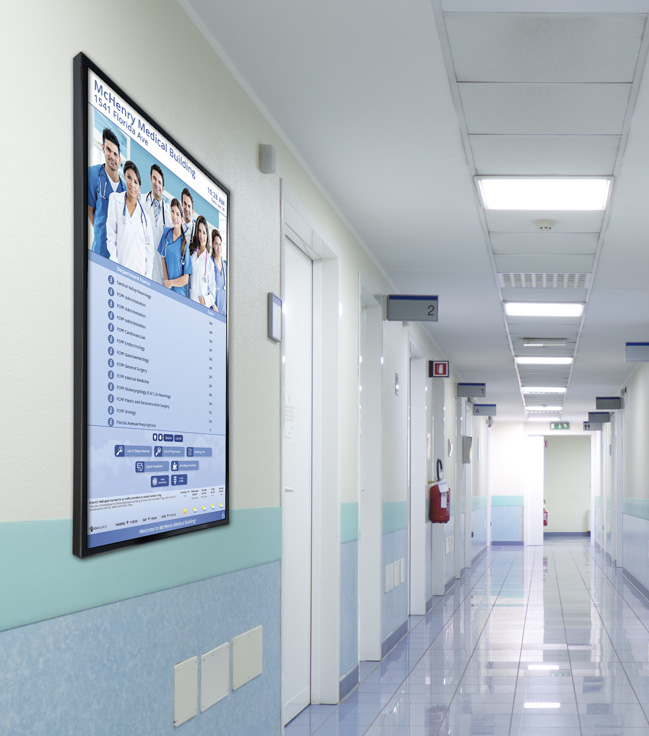 In addition, an advanced wayfinding system that shows the floor plans of the building can also be useful.
Furthermore, you can use your building digital signage display to share information and education about health topics, show patient rights, and useful information like a "tip of the day".
Here are some content examples for healthcare digital building signage:
Building Directory: Display lists of healthcare providers by specialty, department, or physician name.
Advanced Wayfinding Systems: Show floor plans, maps, and animated paths to guide people to their destinations.
Information and Education: Display public announcements, community events, classes, and apps like Healthbit.
Patient Rights: Allow patients to review their "bill of rights" and other regulatory information.
Digital Signage: Share public information, current events, menus, and tips.
Here's an example of how Memorial Hospital West uses an interactive digital kiosk to promote health education on campus:
Building Digital Signage for Commercial Real Estate
If you're in a commercial or office setting, your static or touch screen display can show a directory of companies or offices in the building, along with information about upcoming events, real-time information like news and weather, and advertisements.
You'll want to consider adding a digital wayfinding system that can help visitors find their way around the building with ease — especially if the property has a complex layout.
Maybe you'll also want your digital directory to make a dramatic statement. A large video wall can steal the show, making your property an Instagram-worthy marvel.
Other options for commercial buildings and offices include virtual receptionist features, meeting room displays, and website links.
Here are some content examples for commercial real estate building digital signage:
Building Directory: Display listings of companies, tenants, and public announcements/advertisements. Show real-time information such as news, weather, traffic, and stock updates.
Digital Wayfinding: Display floor plans, the location of each tenant/office, and an animated path to guide people to their destination. Enable mobile wayfinding through an app.
Digital Signage: Show announcements, advertisements, slide shows, and upcoming events.
Virtual Receptionist: Add a feature to connect visitors with offices/tenants in your building.
Meeting Room Displays: Identify shared meeting rooms, show availability, and display current weather and event calendars.
Website Links: Feature direct links to your website, tenants' websites, or other relevant websites.
Building Digital Signage for Education
For educational settings like college and university campuses, digital directories and wayfinding systems can help students and faculty navigate the campus with ease.
This includes directories of staff members, classrooms, and lecture halls, along with information about campus events and digital signage with announcements and schedules. You can also show your appreciation for donors and alumni with digital walls and brick programs.
Here are some content examples for education digital building signage:
Campus Directories: Display staff member names, classrooms and lecture halls, restrooms, cafeterias, and public/faculty break areas. Share public announcements.
Campus Wayfinding: Locate different campus buildings, specific floors within each building, and get animated paths to the desired destinations on campus. Offer mobile wayfinding solutions.
Campus Events: Share upcoming events, deadlines, sporting events, social gatherings, and more.
Digital Signage: Display welcome messages, public announcements, emergency alerts, cafeteria menus, sports schedules, and more.
Donor Appreciation: Show appreciation for donors and alumni with digital donor walls and alumni walls. Display alumni names and how to make donations.
Website Links: Incorporate links to relevant websites related to the school, campus, and various events and information.

How to Get Started
Overall, building digital signage and digital directories are a versatile and customizable solution for displaying helpful information to your customers, visitors, and employees.
From healthcare settings to commercial buildings and offices, to college and university campuses, there are many ways you can use digital displays to improve wayfinding, share information, and enhance the visitor experience.
TouchSource helps customers create the right content experience for their properties every step of the way. From start-to-finish, our team of experts ask the right questions and lends 30+ years of experience in the business while guiding you through your building digital signage project.
Are you ready to switch to digital directories? Request a quote today!
Share Story