How Granite Properties Boosts Customer Engagement Using TouchSource
Award-winning CRE simplifies building communications with a centrally managed content platform
Project Introduction
Granite Properties is a privately held commercial real estate investment, development and management company headquartered in Plano, Texas. An active investor and developer, the company owns 11.5 million SF of high-quality office space in Dallas, Houston, Atlanta, Denver, Southern California, Boston and Nashville. They are committed to create extraordinary customer experiences through mixed-use environments, rich amenities, customer-centric service, and innovative wellness features.
The Solution
In 2020, Granite set out to standardize digital signage across its nationwide property portfolio in order to more directly connect with their building customers. But after trying a DIY-style solution of products from various vendors, Granite decided to look at options to more efficiently manage content and display units.
When selecting a digital signage solution, the following software capabilities were important to Granite:
Finding a user-friendly software solution usable by any skill level and with the ability to customize access levels by user
Specifying the content schedule on a one-time or recurring basis, as well as dayparting capabilities
Enabling teams to manage content remotely and access a live view of the screen at any time, from anywhere
Making instant updates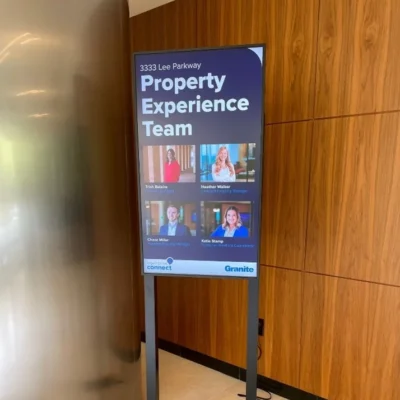 The Search for Simplicity
The digital signage solution requirement was being easy to install and essentially "plug & play." So when powered on, the digital signs needed to automatically connect to the desired network and start displaying pre-loaded content.
Granite partnered with TouchSource to develop digital signage stations for their nationwide portfolio. The total solution included mobile display stands, new screens, and a software solution to distribute content to all the displays at once. In 2021, the company rolled out 34 digital messaging displays to their buildings across the U.S.
We recently spoke with Laurel Patel, Sr. Manager of Community Experience & Insights, about the impact of this technology for Granite's portfolio.
TouchSource: What made Granite decide to switch to a new digital messaging solution?
Laurel Patel: Even before the COVID-19 pandemic, Granite knew there was a communications gap. Many of our properties were still using paper posters when the pandemic hit in early 2020. Static posters and email newsletters weren't effective in relaying all the information we needed to offer.
With limited onsite staffing and new requirements to immediately post health notices, it became clear that we needed a better communication solution – one that could be managed digitally and remotely across all properties.
How did Granite make the case for a nationwide rollout for its entire portfolio?
LP: Making the case to implement digital signage nationwide was simple.
First, there was an ROI from the cost savings of not printing posters, plus time savings. Our teams no longer need order a poster, pick it up from the supplier, and put it in the lobby (not to mention the added pressure of having to be onsite to make changes or take it down).
Secondly, the ability to control branding, manage content centrally, and schedule content helped alleviate some stress for our Property Experience Teams. With this solution, they can set it and forget it. It's that easy.
How have the digital messaging boards been a "game changer" for buildings?
LP: General awareness has increased about the amenities and services we offer, and events we are coordinating. For instance, several of our Customer Connection Centers offer a free, onsite notary service; however, we didn't have effective means of communicating this prior to the digital signage rollout. After advertising the notary service on the digital signs, we've definitely seen an uptick in notary requests. We are connecting with folks that we hadn't before.
This example sounds like a "small win", but it's actually profound if you think about the impact to the customer. We have effectively saved our customers hours in their day because they don't need to travel to a bank to get a notary. Wins like this ultimately help make our buildings "sticky" and help reinforce the value of the office.
How does this investment in digital signage elevate the Granite brand?
LP: Connecting with our customers is a huge part of our brand. Our digital signage solution helps us to reach and engage with them. It ultimately helps support Granite's TogetherWeConnect programming. This is Granite's way of providing an environment where customers build relationships through thoughtful programs, activities, and branded amenities in our buildings. TouchSource has helped us accomplish this by making it easier to communicate and engage with our customers across all our properties.
Share Story