5 Key Questions About Building Digital Signage
Building digital signage, also known as electronic displays, has become an increasingly popular tool for businesses to enhance their customer experience, improve communication, and increase brand visibility.
With advancements in technology and rapid adoption of PropTech, LED digital boards, video walls and interactive kiosks have become more affordable and customizable, making them accessible to a wider range of businesses.
As a leader in building digital signage, TouchSource get many questions from building owners, facility managers and project teams looking to learn more about the benefits of digital displays. These conversations then go on to discuss customizability, types of content signs can display, and one of the most important points: How easy digital signage is to manage and update.
Here are the top five questions customers want to know about building digital signage:
1. What are the benefits of building digital signage?
Customers want to know how building digital signage can positively impact their business. Digital displays have many advantages, including enhancing customer experience, improving communication, increasing brand visibility, generating revenue through advertising, and creating a modern and engaging environment.
One of the main benefits of building digital signage is that it enhances customer experience. With digital directories and interactive maps, customers can easily find their way around the building and quickly locate the services or products they are looking for. This not only improves customer satisfaction but also reduces the workload of front desk staff.
Improving Communication
Building digital signage can also help improve communication by displaying important information such as emergency notifications, news updates, and weather forecasts. This information can be displayed in real-time, ensuring visitors have the most up-to-date information.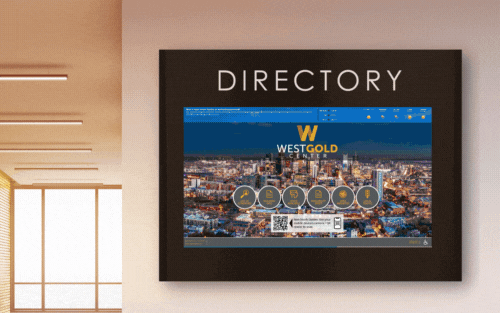 Ability to Generate ROI
Another benefit of building digital signage is the ability to generate revenue through advertising. With the ability to display advertisements, businesses can promote their products or services to a wider audience and generate additional revenue streams.
2. How customizable is building digital signage?
Customers want to know if they can tailor their building digital signage to meet their specific needs. The level of customization can vary by vendor or supplier. But at TouchSource, we pride ourselves on offering a highly consultative approach to project planning and delivery.
With our digital directory software, customers can easily customize the content displayed, including tenant directory listings, office hours, maps and wayfinding, emergency notifications, and social media feeds. Customers can also integrate their own corporate branding elements, ensuring the digital signage fits seamlessly into the overall branding of their business.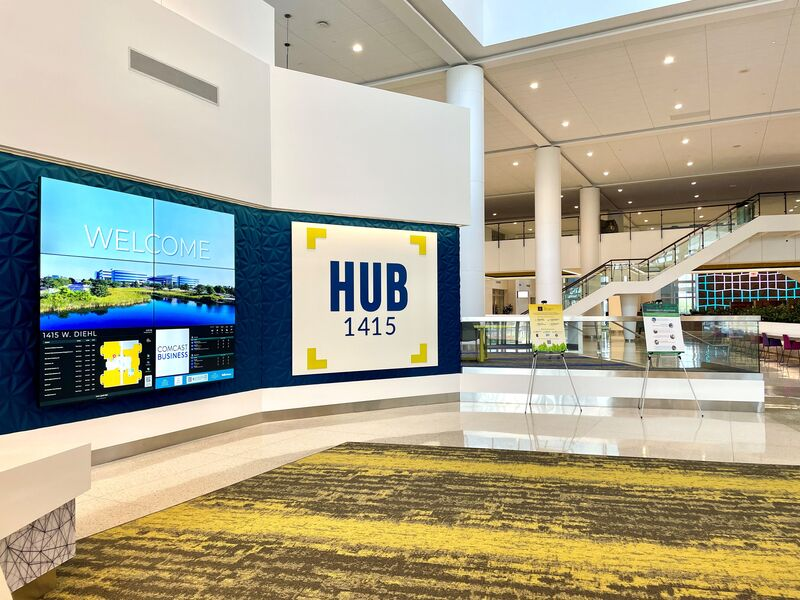 At TouchSource, we understand that every building is unique, which is why we offer several options for customers' digital signage footprint, from standard digital displays to interactive kiosks and engaging LED video walls. Plus, all digital display content can be managed together from a single cloud portal. This ensures the best possible customer experience, regardless of location.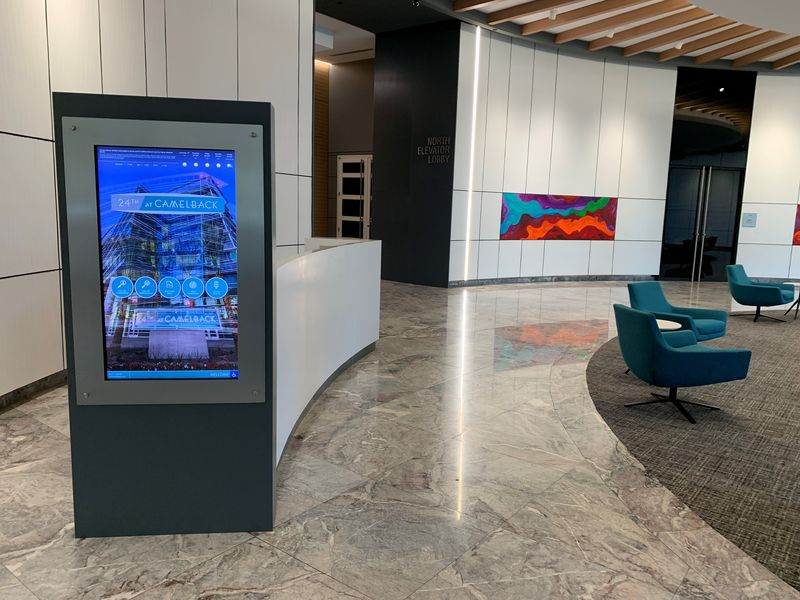 3. What types of content can be displayed on building digital signage?
Customers are curious about the range of content options available for building digital signage. With digital building signage, the possibilities are endless. Common types of content include tenant directories, office hours, maps and wayfinding, emergency notifications, news updates, weather forecasts, social media feeds, advertisements, and other relevant information.
One popular feature of building digital signage is the ability to share interactive maps. Interactive maps allow visitors to easily navigate through the building, find specific locations, and even get directions to their destination.
Another popular feature is the ability to display social media feeds. This allows businesses to display their social media channels and showcase their engagement with customers in real-time.
4. Is building digital signage easy to manage and update?
Customers often ask us if building digital signage is user-friendly. Can they easily manage and update content themselves? How easy is it, really?
At TouchSource, we understand the importance of user-friendly software. That's why we've designed our digital directory software to be as easy to use as possible.
Our software is cloud-based. This means that customers can access it from anywhere (yes, anywhere!). At any time, using any device with an internet connection. The software is intuitive and requires minimal technical expertise to use. Customers can easily manage and update the content themselves. So if you're not a tech whiz, fear not.
Our software also allows for users to make real-time changes to their displays, ensuring that visitors have the most up-to-date information at all times. Whether it's updating office hours, adding new tenants to the directory, or displaying emergency notifications, customers can make changes quickly and easily.
5. How reliable and durable is building digital signage?
Customers want assurance that building digital signage is a reliable and long-lasting investment. At TouchSource, we understand the importance of reliability and durability. We only use high-quality, commercial-grade hardware that is built to last and can withstand the demands of continuous operation.
Our displays have a long lifespan, ensuring that customers can enjoy their investment for years to come. If technical issues arise at any time, our team of experts is available by phone and email to offer support.
Additionally, our digital displays replace printed paper signs, making them most cost-efficient and sustainable solutions.
Conclusion
Building digital signage, including digital directories and meeting room signage, offers many benefits. It enhances customer experience, improves communication, increases brand visibility, generates revenue through advertising, and creates a modern and engaging environment. Building digital signage is a valuable investment for businesses looking to impress visitors, improve organizational efficiency and enhance their overall image.
Ready to maximize the potential of your spaces with digital signage? Contact us today to schedule a consultation and explore how TouchSource can meet your unique needs.
Share Story