One Biscayne Tower Safely Re-Opens with Innovative Visitor Technology
How One Biscayne Tower Used Smart Processes and Technology to Re-Open Safely
As the world re-opens buildings up to the public, owners and property managers are scrambling to ensure that their buildings meet public health protocols. With new social distancing requirements and an elevated concern for the spread of germs, they need to get creative with technology in the face of the New Normal.
What One Biscayne Tower Did to Adapt to Coronavirus
As a celebrated industry leader, L&B Realty Advisors faced this challenge head on when re-opening One Biscayne Tower to the public. They implemented a two-part strategy for visitor and tenant safety. Vendors now use the TouchSource directory to check in, answer safety questions, report coronavirus symptoms, explain why they are visiting and where they are going (tenant being visited). The information then is instantly routed to the administrator to review and address. This also aids with contact tracing, if needed. Visitors benefit from touchless yet interactive directions. Scan-and-go directory information moves from a QR code to the user's phone for instant convenience.
Both elements of this visionary and technology-enabled building experience reduce exposure of employees while preserving a great visitor and tenant experience. In this way, L&B Realty Advisors are delivering a visibly safer experience and great peace of mind for One Biscayne Tower building tenants, employees and vendors.
An Interview with Corinne Hoffman, Director of Office & Industrial Asset Management at L&B Realty Advisors
We had the chance to speak with Corinne Hoffman, Director of Office & Industrial Asset Management at L&B Realty Advisors based in Miami, Florida. One Biscayne Tower is operated by L&B Realty Advisors, an employee-owned, SEC-registered real estate investment advisor with $9 billion in gross assets under management. They offer real estate investment management services to institutional investors. They've owned and managed One Biscayne Tower since 1995.  As part of a lobby renovation, they added a TouchSource interactive directory in 2019. The directory was transformed with a contactless interactive design in June of 2020 to aid in the building's COVID-19 Preparedness Plan.
What impact did the shift to a contactless directory have?
"The safety and well-being of our tenants and building staff have been a primary focus for One Biscayne Tower. Visitor check-in used to be performed via contact with the building security desk. Now, with our new no-touch solution, not only can we help screen visitors for symptoms, we can help maintain social distance between visitors and building security personnel."
How has your TouchSource digital technology made re-opening easier?
"The new TouchSource solution has provided the building management staff with confidence and reliability in real-time reporting, contact tracing and organization as we implement our new visitor policy. It also assures that each visitor in the building is made aware of the building's COVID-19 policies."
Any favorite comments from visitors or tenants who interacted with your displays?
"Visitors are commenting on the simplified self-service check-in with less wait time."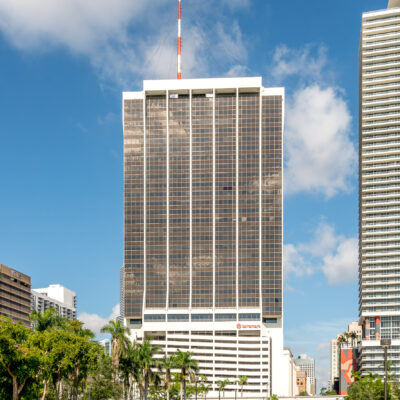 We hope that you're as inspired by Corinne's story as we are. As you navigate the post-coronavirus world, let us know if we can help.
Share Story