Creating a Transit Communication Network with TouchSource Digital Displays
Transportation Management Association Group has increased public awareness of transit options in Nashville with TouchSource digital displays
Transportation Management Association (TMA) Group is a non-profit corporation serving Greater Nashville. The organization supports a regional transportation system that provides accessible, affordable, reliable and interconnected transit choices for the community. The group also organizes van pooling and collaborates with local businesses to help people get to various job sites. Their message to the Nashville community is simple: There are alternatives to using your car to get around. But getting the word out to residents, employees and employers was a challenge for TMA Group, which is largely funded by transportation grants.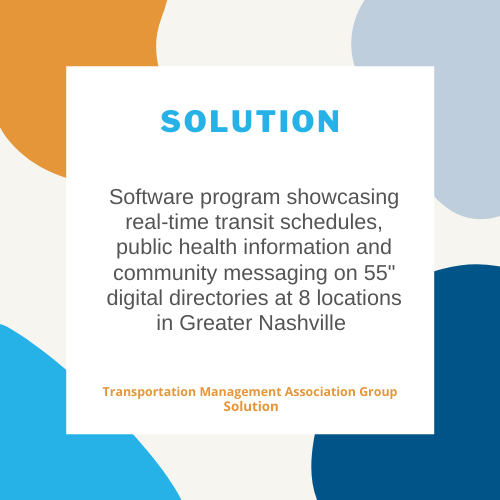 TMA Group partnered with TouchSource for an all-in-one software and hardware solution to promote transportation alternatives like carpools, van pools and buses. Together, they built a communication network consisting of transit information, schedules, and community information. These have been placed at high-traffic hubs around the city.
TouchSource recently spoke with Stanton Higgs, Chief Operating Officer, and Chase Harper, Business Development Director, about their solution.
What drove the need for a transit communication system?
Stanton Higgs: Tennessee is a state full of car enthusiasts. Almost 97% of residents use their personal vehicles as their only transportation. This has resulted in public funding going towards building roads, highways and interstates rather than transit infrastructure. We believe you cannot blacktop your way out of congestion; alternative transportation other than individual cars needs to be utilized.
How does your solution spread the word about alternative transportation?
SH: We've deployed large digital displays at various hubs around the city: a community college, a hotel and conference center, a hospital, City Hall, and a County Administration building. Each screen is mounted near entrances and main lobbies, so easily visible to visitors and employees. Each display features the customized transit-themed software program built by TouchSource. This program features real-time transit schedules for van pools, carpools and bus routes, plus real-time traffic data, interstate commute delays, weather forecasts, news headlines and stock tickers. They are programmed differently with content relevant to each individual location.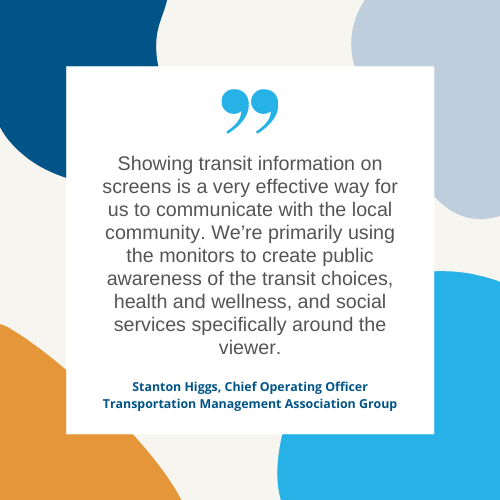 Do the screens deliver other content besides transit-related programming?
Chase Harper: What's great about our screens is that they feature custom rotating content, making them a more valuable communication tool. This has allowed us to use this system for providing information to the public about health and safety. During the pandemic, we started use our displays to list COVID-19 vaccination sites near each location. We also use them to promote listings for community resources like food pantries.
What results have you noticed since the program launched?
CH: Since deployment in 2020, we've seen that public and shared transit ridership have increased by hundreds. This solution has been so instrumental in raising public awareness about riding options beyond single cars. People are paying more attention to alternative options for getting to and from work, and other places. They are also choosing to change their commuting habits in response to higher gas prices, which becomes more of an issue for those with regular longer commutes.
Share Story