A Magnificent Mile Makeover: Shopping Complex Completes Renovation with Digital Displays
900 North Michigan Shops Installs TouchSource Digital Displays
900 North Michigan Shops is a mixed-use luxury retail complex in downtown Chicago. Located along the famous Magnificent Mile shopping district, the property features seven levels of retail space, condominiums, the Four Seasons Chicago hotel, a parking complex and a surgical suite.
When the owners embarked on a multimillion-dollar renovation in 2017, the goal was to reinvent the space. Everything was refreshed, from the mall entrance up to the mesmerizing digital canopies with moving wall art on the ceiling. The owners also decided to replace the building's original 1980-era directories with posh digital displays. Working with architectural sign business Poblocki Sign Company, 900 North Michigan Shops installed 28 stacked TouchSource monitors at 14 stations to help direct visitors throughout the space.
Each stacked screen display lists retailers by level, a circulating slideshow of announcements and promotions, and a map.
We recently spoke with Olivia Wurm, Assistant Marketing & PR Manager at 900 North Michigan Shops, to learn more about how the retail space is using TouchSource Keystone displays.
How does your property compare to others on the Magnificent Mile?
At 900 North Michigan Shops, we are unique because we're a mixed-used building that serves luxury clientele. There's a lifestyle community under our roof: the gym downstairs, a hair salon, dining spots, and more. We're truly a destination. Our on-site hotel, Four Seasons Hotel Chicago, connects directly to the retail levels. To be a luxury retail destination, we need to make sure our property has all the right elements that appeal to our clientele.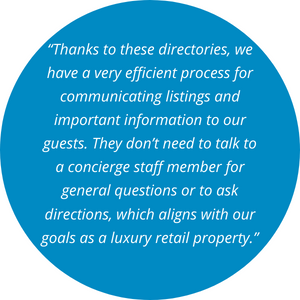 What were some challenges on the property before installing digital displays?
The original directories were incredibly antiquated. Picture a mall in 1980. The slat sign directories were dark, hard to read and had to be manually updated. Retailer names would actually fall off of them, which wasn't good. Our new digital displays are great. They have digital floor maps and digital listings. We have four new retailers opening this quarter alone, including a preschool, so it's nice to be able to easily add them to the directory.
How did visitors and staff react to incorporating more modern elements and digital displays?
The total renovation, which included bringing digital displays on board, really injected new life into our property. We have stepped into the times. Our digital directories are easier to read and understand, and they look great. And even after the delivery, TouchSource did a great job communicating with us about any changes or updates we wanted to make as we evolved.
How has the digital displays technology made business operations more efficient?
Switching to digital directories has saved a lot of time. We used to have a very physical updating process, using 20-30 minutes per updated store name, and more time to shuffle names around on the boards – that's hours you could spend on other efforts. Thanks to these directories, we have a very efficient process for communicating listings and important information to our guests. They don't need to talk to a concierge staff member for general questions or to ask directions, which aligns with our goals as a luxury retail property. Our visitors expect the highest level of service, so we aim to make the client experience seamless for them.
Share Story