CEO Ajay Kapoor: On the Future of Healthcare
Insights We Learned From BOMA MOB 2022
After a few wonderful days in Nashville for BOMA MOB Conference 2022, I was able to clear my head and think through all that we discussed. First, I must commend the team organizing the speakers. The keynote discussions and Thursday's panel discussions really hit on the key issues facing healthcare and healthcare real estate: The changing face of healthcare, innovations, staffing constraints, supply chain issues, and speed to market. Every conversation I had outside of the formal presentation hit on one of those themes and permeated the discussion in every room.
Here are some of the biggest takeaways our team learned from the event.
The Future of Healthcare
Thomas Koulopoulos led Thursday's morning keynote with a question to the audience: Were we willing to take the red pill or the blue pill and deal with honesty about the current state of healthcare? Throughout his discussion he highlighted that the speed of healthcare innovation is unprecedented, but we have to look with clear vision at the problems. Whether it be the aging globe, the complexity crisis, or the lack of focus in care, the point was clear that the industry was taking its eye off the ball. Koulopoulos is leading a call to arms to discuss care and eliminate the false tradeoffs between local and cloud-based care. 
► For all of us in attendance, the message was clear: We need to spend time really looking at patient experience in all aspects of care. Whether it is modeling the innovations John Muir Health is doing or the opportunity to treat patient communication differently, the speaker challenged those of us in healthcare real estate to think differently and bring innovations to change the numerator (health)—not just the denominator (cost). 
Addressing Constraints
Every panel or keynote mentioned the role constraints in labor and supply chain are affecting the markets. For some that means looking again at the rapid pre-fab market that has faced its ups and downs; In other cases, it means stretching property management teams to cover more properties with fewer resources.
One panelist remarked that it is far easier to get patients than employees, so healthcare providers are assessing locations based on staff availability. The good news is that there are dozens of creative ideas to move past the labor constraints and the increased digitization of facilities is at the core of many of those concepts. As part of the digitization, we've seen teams utilize their digital directory assets to reduce their operating costs, extend concierge services, reduce ad hoc signage, support tenant inquiries, and expand into a concierge-like leasing experience. 
Themes of Innovation
The lunch keynote speaker, Marcus Whitney, shared his fascinating life story as he brought his optimistic view of innovation. This was fitting moving into the second half of the event as it inspired the participants to think a bit differently about the innovation we could achieve. Mr. Whitney highlighted three potential themes that could dramatically change healthcare real estate.  
1. Domestic manufacturing, which extends beyond building materials and silicon chips and into therapeutics and diagnostics.
2. Reimagination of the health system is not only going to change the experience for providers, but also for real estate teams. The Dell Medical School's Design Institute for Health is looking at a fundamental redesign of space to optimize workflows and outcomes.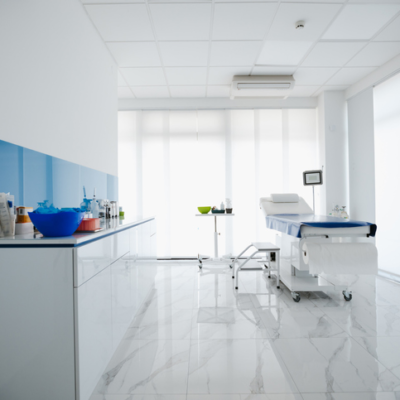 3. The evolution of cities of the future into purpose-built places for health that aim to mimic the results of the Blue Zones around the world. 

These three innovations all pointed to a need to think differently, build differently, and operate differently. What if we could take an existing site, use locally manufactured materials, build it with patient outcomes in mind, and could incorporate it into community with health, education, and employment all within short, sustainable transit? These may seem like lofty goals, but as Mr. Whitney said, "Capital allocation makes change." He asked people to be "courageous with our capital" to drive the change needed in the world. 
What We Take with Us
Aside from a healthy serving of Nashville hospitality filled with barbeque, music, and some Tennessee whiskey, I think those of us that participated in BOMA MOB see an exciting future within the medical real estate space.
Those on the deal side are seeing opportunities to find deals on value properties and fund investments to upgrade the spaces.

Those on the development side are creating inspirational properties that are informed by the desire for positive patient experiences in the built environment.

For those on the property management and leasing sides, they continue to see impact from the ongoing disaggregation of healthcare and post-COVID recovery for providers. Surgeries are significantly up, which is creating a trickle-down effect in provider mobility and leasing demand. These positive trends should continue into the future.

 
Our team left Nashville both inspired and humbled. We met dozens of passionate customers who shared their successful project stories with us. We captured countless messages from clients who want to pass on regards to their favorite TouchSource team members. And we also left with a mandate to continue to innovate for our clients.
How TouchSource is Innovating
The new Spark PX platform is going to meet the innovation needs that the speakers highlighted and our new capabilities with art and engagement are already delivering positive patient experiences today. The new AuxSpaces and SharedSpaces products are meeting the space agility requirements and our software capabilities are helping with labor shortages today by removing tasks from critical teams. Finally, we are excited to help our leasing friends utilize the directories as part of their selling experience. 
Overall, the BOMA MOB event is the highlight of my conference calendar every year. It's rare that you can spend 3 days with close partners, discuss important topics, and leave as closer friends. Thanks to all those that stopped by. I look forward to seeing you in the future. 
Share Story