For the ultimate mood-shaping experience.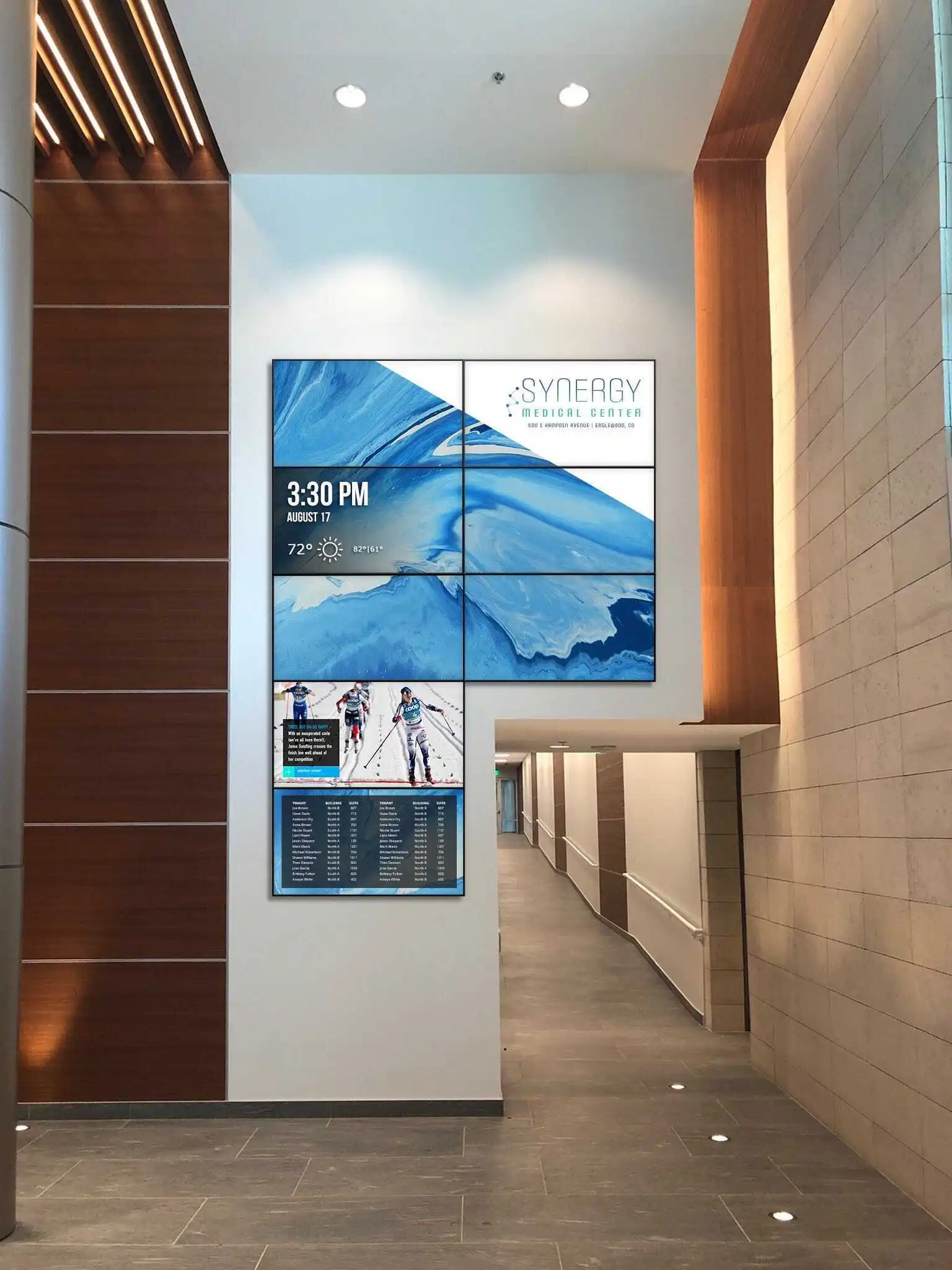 Analytics – Gain insights into user and display interactions with advanced analytics.
Art Backgrounds – Add up to 12 royalty-free still or video art backgrounds that rotate throughout the year.
Dual-Language Navigation – Offer easier navigation with a second language in the buttons and category headers. We'll load your translated copy for you and you can upkeep it on your own. Add three or more languages for an added fee. Call for details.
Experience Flipping – Airports, campuses and multi-use venues can easily "flip" the content on their display to an alternative content experience for special events, scheduled programs, or other demands.
Infotainment – Choose an unlimited amount of infotainment, sports and exciting content feeds to draw visitors to your directory.
Sensor-Triggered Content Experience – Sensors detect nearby users and change what is shown on the screen to turn passive viewers into active engagers.
Transit Schedules & Ride Share Services – For local rail, bus, shared ride services including Lyft, Uber and more, and other local transportation schedules.
Conference Room Schedules – Show meeting bookings for your conference rooms via Google Calendar or Office 365.
Flex Listing Management – Schedule listings of people, companies or resources with intermittent or flex schedules so that they automatically appear when they're on site or available.
QR Code Surveys – Deploy surveys, self-service check-in and other forms using QR codes for mobile delivery.
Virtual Visitor Reception – Let visitors notify your tenants of their arrival through our QR code calling and concierge notification services (email/SMS).
Single Live Stream Infotainment Feed – Choose one option from 10 live streaming information feeds that include news, entertainment, sports, your social media feeds, window to the world, health facts and other options.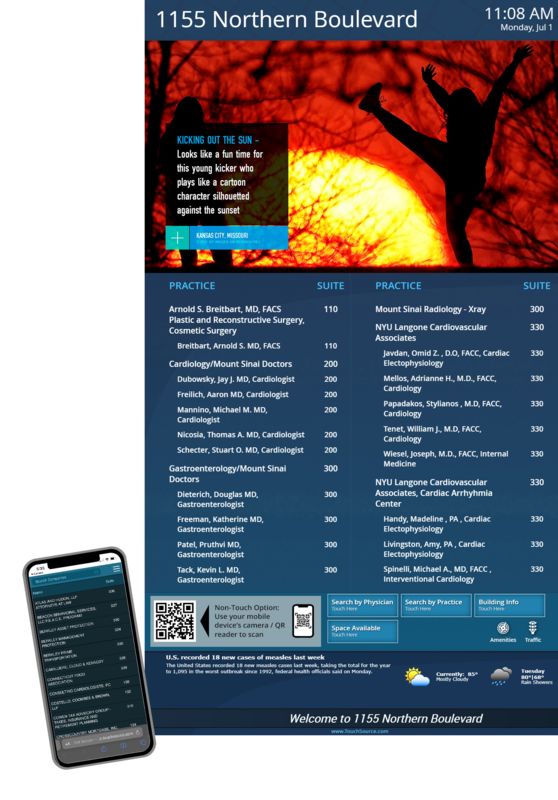 Customer Branded Themes – Provide us your brand color schema for usage in the Design that you select.
Emergency Messaging Takeover – Update your slideshow content with emergency messaging takeover. Whether it's a winter storm, hurricane or other emergency warning—with one swipe, everyone will see the message on the full screen.
Listing Import from a CSV Format – Upload listing updates from a common spreadsheet format for times when you have broad changes to listings.
Local Area Amenities – Show local restaurants, stores, banks and other amenities for busy on-the-go visitors who need information quickly.
Realtime Traffic Map – Help visitors plan their commute with a live traffic map.
Mobile Directory – Easy, no-touch viewing with our designs and QR code directory access without hassle with downloading a new app.
Multi-Display Management – Manage, schedule, and view content across groups, buildings or an entire network of displays.
Multi-Factor Authentication – Ensure that only current employees and authorized users can access your directories.
Video Streaming – Add videos to your display using the slideshow viewer. We help you stream the content without any herky-jerky motion.
Easy Listings Management – Update listings whenever you want from any device. Easily manage more than one directory or building from a single, user-friendly online portal.
Building Information and Leasing – Tell tenants and prospective leasing prospects how to reach you and your leasing team. Add leasing brochures to help fill up open suites more quickly.
Streaming News & Multi-Day Weather – Standard with all of our packages, you'll get multi-day weather icons and news headline summaries .
Digital Slideshow – Load PDF, PNG or JPEG content such as building notices, marketing messages, community news and event notices on screen.
Directory Level Licensing – No per user fees. Any team member including your remote marketing team can log in and make updates anytime.
Make Updates from Anywhere – Use your mobile phone, laptop or any internet connected device to make updates.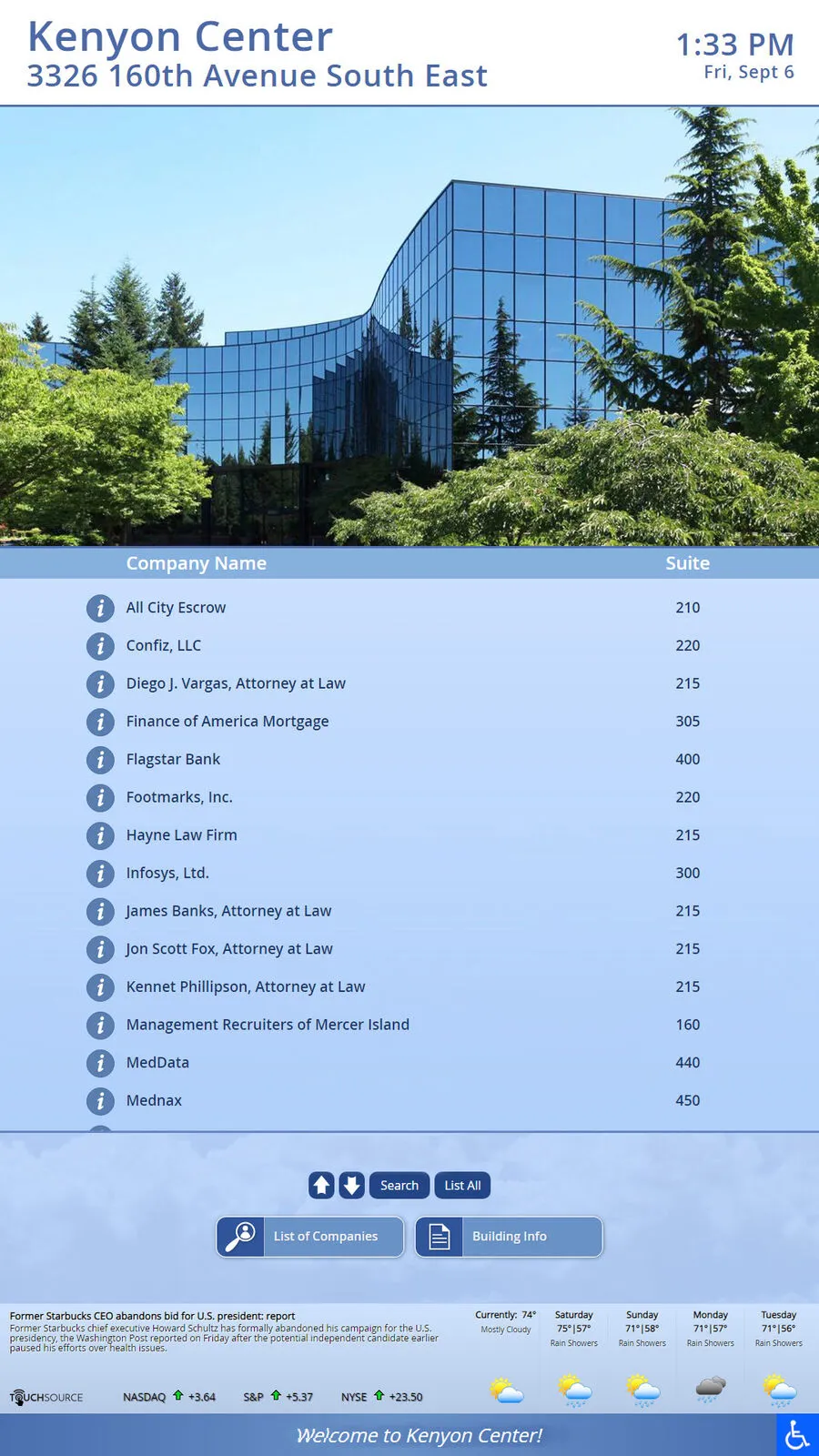 Easy-to-Use Online Platform & Support
Unlimited Remote Software Support – Supporting all time zones with live engineers based in North America.
Simple Access – Secure, easy-to-use online platform accessible from anywhere, any time.
Content Hosting – Content hosting including data, images, videos and links included with your subscription.
Software Maintenance – Proprietary software platform designed for business users, so we do the heavy lifting.
Peace of Mind – We maintain software and security updates.