TouchSource and Kings III Solution Provides Safety and Entertainment for Elevator Riders
Lafayette, CO. March 22nd, 2018. TouchSource, the industry leader in digital building directories and signage announced their partnership with emergency communications giant Kings III by creating an innovative safety solution that will enhance the lives of the deaf, hard of hearing and speech impaired while also complying with updated requirements of the 2018 International Building Code (IBC).
As excitement builds for the Digital Signage Expo (DSE), taking place next week in Las Vegas, industry leaders gear up to debut their most inventive creations at the world's largest tradeshow for digital displays. TouchSource and Kings III took their shared passion for simple, effective technology and set their sights on transforming a complex elevator communication issue into an easy solution.
"TouchSource was a natural partner for Kings III when developing a consolidated solution to this problem," said Kings III CEO Dennis Mason. "Our experience with Emergency Dispatching as well as Elevator knowledge worked very well with TouchSource's video solution. TouchSource provides the hardware and interfacing software and Kings III provides the call handling and translation services that are required. It took the things that both of us do well and combined them into an industry leading solution."
TouchSource and Kings III pride themselves on integrating ADA adaptability into everything they do, so an opportunity to benefit those with unique needs was a natural fit and provided added inspiration.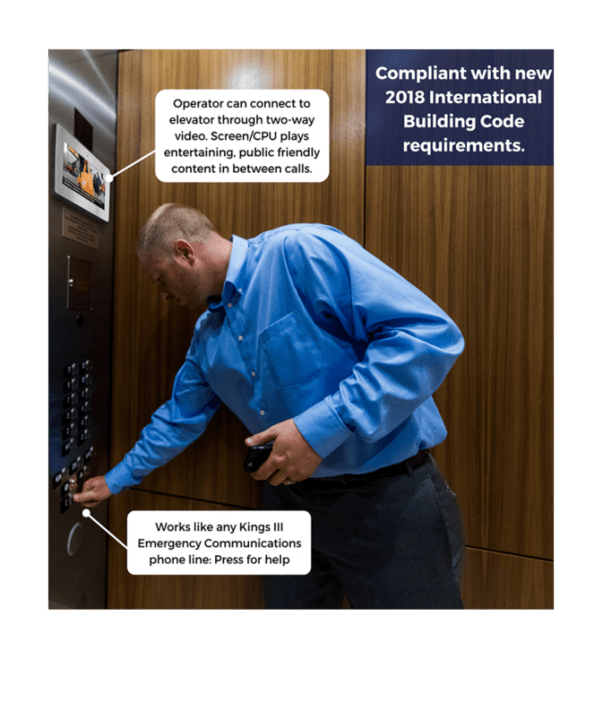 THE CHALLENGE
Every three years the IBC makes code provisions intended to protect public health and safety while avoiding unnecessary costs. Very recently, a change was made to emergency communication systems in elevators. Until now, the deaf, hard of hearing and speech impaired community have been left vulnerable in elevators, neglected in scenarios that could leave them trapped without the ability to communicate. The change will require two-way communication systems to be visual, text and video based with a 24/7 live interactive system. Other requirements include:
 Must be fully accessible by the deaf, hard of hearing and speech impaired, and shall include voice-only options for hearing individuals.
Must allow communication with emergency personnel utilizing existing video conferencing technology, chat/text software or other approved technology.
Any district that is under IBC 2018 will need to comply with this code if their permit to build was obtained after January 1, 2018. This code provides incredible service for those living with disabilities but brings a significant shift to property owners and managers who will need to accommodate new two- way video services not currently provided by their elevator contractor.
THE SOLUTION
TouchSource and Kings III came together to pair existing code compliant elevator phones with TouchSource's user-friendly 2-way video interfaces. For those with disabilities, this innovation is imperative. For the first time, those living with hearing and speech impairments can effectively communicate during an emergency. This solution, specifically intended for the deaf or hearing and speech impaired is vital to the community, but its benefits far surpass its vitality for those with disabilities and what's required in the compliance code.
ADDITIONAL BENEFITS INCLUDE:
Designed with all clients in mind, TouchSource enables a property manager to provide utility to passengers outside of emergencies through seamless, engaging content, information updates, and managed branding through their video screen
For those without disabilities, the ability to communicate more effectively than ever before and if needed, to show the operator what is happening in the elevator
Support immediate status messaging to the display controlled by remote operators during distress situations
A clear determination between false alarms and the possibility of someone in the elevator not able to respond and intelligence to detect outages
"It is extremely rare for a building owner or property manager to be able to make a single investment that will increase compliance, boost safety, and upgrade the overall tenant experience," comments TouchSource CEO Ajay Kapoor.   "By combining the engaging content from TouchSource with the robust emergency communication from Kings III, building owners and property managers can accomplish all three of those goals very simply. On top of that, we're able to empower a community of people where this innovation betters their day to day life, a solution that is long overdue."
 ABOUT US
TouchSource offers a wide range of engagement solutions to improve the visitor/tenant experience. With more than 30 years in the industry and over 7,000 installations worldwide, we offer best-in-class warranty, service, and support.
 In addition to activating your space, TouchSource solutions save you time, money and headaches. They're easy to deploy, easy to use, and easy to update. You can even update multiple directories throughout your building from a single login to the TouchSource Cloud in a few second per listing. We're focused on simplicity.
 Made and supported in the USA in beautiful Colorado. For more information, visit www.touchsource.com or click here to learn more about our elevator solutions.
Kings III Emergency Communications has been providing complete, compliant and affordable emergency phone solutions for elevators, poolside, stairwells, parking areas and more for nearly three decades, monitoring more than 50,000 help phones across the U.S. Our all-inclusive turnkey solution includes equipment, installation, maintenance and 24/7 monitoring at our very own Emergency Dispatch Center for one low price. Two key differentiators include our smart line seizure technology which eliminates costly dedicated emergency phone lines and our digital recording and storing of all calls. These coupled with advanced operator training and many other value-added benefits allow us to reduce risk, liability and costs for our customers.
Made and supported in the USA. For more information, visit www.kingsiii.com.
Share Story