5 Reasons to Buy a Digital Directory
Why do people invest in digital building directories?
These are the top 5 reasons that we hear from customers.
1. ADD STYLE & ELEGANCE
Discerning tenants have come to expect modern amenities buildings they visit. Electronic touchscreen directories are a quick, easy and cost effective way to give your lobby or common space an instant makeover and a modern, elegant look. Sleek and stylish models let you match your vision and brand⏤for technology that fits right in and elevates the wow factor of your space.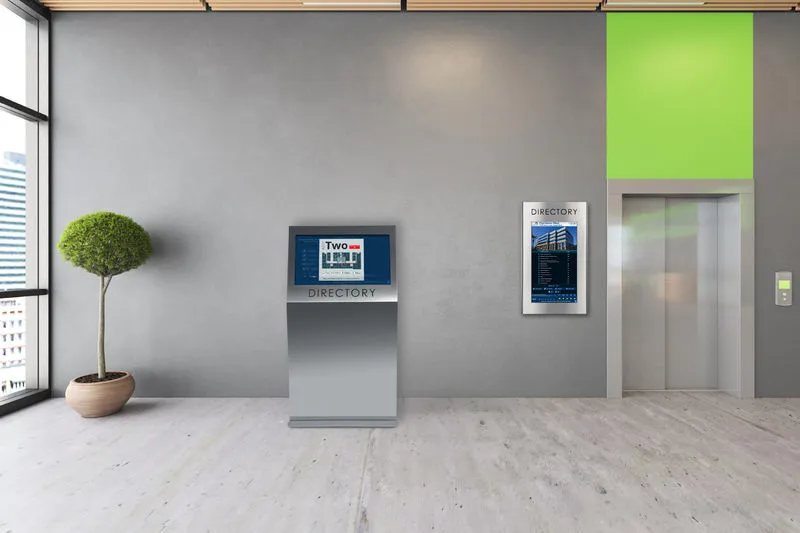 2. MODERNIZE
Interactive digital kiosks future-proof a building by making it easy to keep up with ever-changing tenants. With TouchSource electronic directories, you simply log in, type a tenant entry and have it appear on your screen. No more ordering plastic strips, waiting for them to arrive and get installed, and paying repeatedly every time a tenant changes. In addition, our Virtual Receptionist app lets you add a dialing link to any listing on your directory with no phone line needed.
3. ENTERTAIN & INFORM
Digital directories add value to any building with entertaining streaming content and relevant information like weather, traffic, stocks and headline news. They also give you the flexibility to easily update and adapt your content as tenant values and interests change.
4. LESSEN CONFUSION
Large medical centers and college campuses can be extremely challenging places for visitors to navigate through. Touch screen, interactive directories make wayfinding much easier by displaying floor plan maps that show animated paths to a visitor's highlighted destination. They also show campus maps that help guests navigate through multiple buildings.
5. REDUCE WASTED TIME AND MONEY
Wayfinding is not just a convenience for a facility; it makes financial sense and improves the bottom line. Poor wayfinding causes the loss of productivity by staff members and tenants who take time away from client and patient care to give directions or walk lost visitors to their destination. A study by Zimring found that the hidden cost of poor wayfinding was more than $220,000 per year.
Share Story