Deliver Safety Notices and Mobile User Compliance in a Reopening World
How Will You Communicate Building Safety?
Everyday buildings, campuses, and offices are slowly opening to the world. Some will be open in days or weeks. Others will proceed more cautiously and open in months. Regardless of the timeframe, every facility team, building owner and building operator will be faced with two big questions:  
1. How do I assure that occupants and visitors understand and respect the guidelines that I am putting in place for my building?  
2. How do I protect myself from liability if the worst should happen and there is a spread of COVID-19 amongst those who visit or have visited my building?  
Obviously these are gut-wrenching questions and even the most senior administrators at the State and Federal levels are struggling with answers. Daily news stories highlight this tension. But there is one point of uniform consensus amongst policy makers, scientists, public health professionals, and medical providers: Visible and clear communication is critical.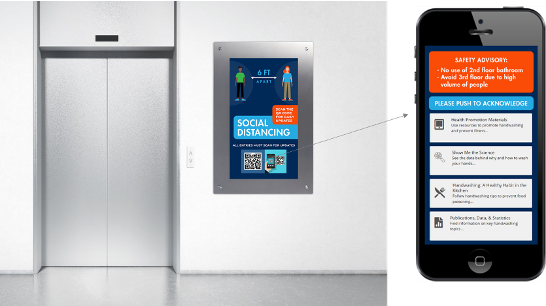 T
ouchSource 
Contactless Mobile Compliance
 & Safety Messaging Display Bo
ards
TouchSource has consulted with public health teams in our home state of Colorado to create a set of simple tools to help with communication and liability risk. Our Integrated Mandatory Public Safety Messaging solution allows you to quickly publish notices and capture acceptance via mobile devices. 
Display mandatory public health and safety information throughout your building

 

Enable acknowledgment services to track compliance by visitors and tenants through their mobile devices

 

Update messages easily to keep in compliance

 

Provide them with optional or mandatory scan-to-mobile information interactivity

 

Adjust mandatory notices by city and state to manage different legal notices

 

Track scanning rates and engagement with health and safety messaging 

 
Our Contactless Mobile Compliance toolset is a fully contactless solution designed to help you communicate the expectations within a building while creating auditable proof that occupants and visitors saw the message and acknowledged the requirements. The solution starts with TouchSource's architecturally finished digital signage platforms that complement your lobby or public space while being strongly visible.  
Through our secure cloud updating platform, facility teams can easily update a daily message or multiple messages on the large format displays. If deployed at all entrances to the building, these displays can provide the first level of communication to all visitors. These messages can be in multiple languages and customized to your building, your campus, and your needs. You also can display the right notices for your location. If you manage multiple properties in different cities and states, you can easily adjust the notices to keep in compliance with local guidelines from a single platform.        
Next TouchSource uses our innovative Contactless Mobile Compliance feature to present a more thorough set of operating requirements for all visitors and occupants. These can include standard CDC or OSHA messaging, TouchSource-curated social distance messaging, or building-specific notices. In addition, property teams can provide daily updated messaging if facilities are closed for the day or if certain traffic is being redirected to different entrances.  

Securing Visitor Acceptance of Safety Compliance Rules
The most important step is that every user that scans and opens the mobile experience is asked to acknowledge the requirements. Property teams could choose to require people to scan daily or scan at the first time they are in the building, but with that acknowledgement they can confirm that they not only communicated the expectations but the occupant received and agreed to the social distancing requirements put in place. All of these interactions are searchable and reportable based on time-of-day and in aggregate.  
Through TouchSource's suite of Contactless Solutions and the Contactless Mobile Compliance solution, TouchSource is continuing to help our customers and the country navigate a new world of social distancing, safety, and liability risk. We are here to help you identify solutions that can help you in reopening your spaces safely and with a bit more confidence.  
Although these technologies and processes are expected to aid in communication and liability protection, it is important that all teams consult with their own legal teams to assess the notices and utilization on their properties.  
Share Story